Are you a chronic over spender? Often splurge on impulse buys? Can't workout where all your money's gone by the end of the month? Even if you start off the month with the best intentions, your colour coded 4 page budget isn't much use unless you manage it well.
Sometimes people can feel restricted by the words BUDGET (like it takes the fun out of life) – but on the contrary having a budget can actually bring you financial freedom!
Here are our top 10 tips for managing your budget like a boss.
​​
1. Set a goal. You don't get on a plane without knowing where you're going (unless you're being surprised by a super nice getaway). Likewise, there's no point setting up your budget without a goal in mind, otherwise it's just a pile of numbers on a page! Make sure you've got a clear financial plan ahead. Check out our video on goal setting!
2. Automate. Ever have that stomach dropping feeling of forgetting to pay rent or missing a trick with your investments? You're more likely to stick to your budget if you start automating and cut out all possible human error!
3. Get yourself a bills account. Finding your rent is getting swallowed up in a sea of ASOS orders and takeaways? Set up a separate bank account strictly for bills and fixed expenses, and set up a standing order / direct debt to transfer the money you'll need at the start of each month.
4. Use technology. Tap into the endless list of tools available to help keep your budget on track. From smartphones apps and special calculators to bank account email alerts, make all these tools your friend (we heart these ones Monzo, Revolut, Plum, Squirrel and Money Advice Service Budget App).
5.​ Stop paying too much for convenience. Also know as 'invisible spending' – these are the costs that are unplanned, quick Pret snack here, uber there (remember what we did before Uber), Deliveroo right now? Convenience buying is a sure fire way to see your budget take a dive. Not so fun fact: The average UK adult spends £18.23 on 'invisible' items a week, which adds up to £947.96 a whooping year. YIKES!
6. Are you wasting food? Brits waste £250-£400 a year n food. So make a challenge to use what's on your pantry and start creating meal plans, use your freezer and buy some good Tupperware. Check out these recipe videos for some low cost food ideas for under £2.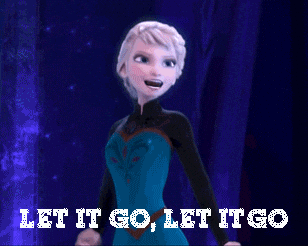 7. Like Elsa – Let go. Stop being so hard on yourself! The past is the past and we've all made mistakes. Holding guilt for a bad decision or careless purchase will only increase your negativity energy and money mindset.
8. Make it a date with a friend! After all, budgeting is way easier with peer pressure. Grab a friend you know will keep you accountable, put a date in the diary to meet once a month and make it your time to talk money and check in with each other. Better still, join a budgeting circle – what's a budgeting circle you ask? Read about ours here.
Wanna learn how to budget like a boss? Check out our events and budgeting workshops happening in London and around the country.